Written by SexWithEmily.com
The year 2020 is special. It's the beginning of a new decade, the year of a presidential election, and of course, it's a leap year.
In Irish folklore, February 29th is considered to be "Ladies' Choice Day". As far as I'm concerned, every day is "Ladies Choice Day". But it's still fun idea to celebrate, especially in the bedroom.
It only rolls around once every 4 years. So why not bust out those "once in a blue moon" sex moves for the occasion?
To commemorate this historically rare date, here are 3 fun new Leap Day sex moves to try out. It is ladies' choice, after all…
GET DIRTY IN THE LAUNDRY ROOM
A great way to break free from your familiar sex routine is to take things outside the bedroom, even if you new sex locale is still within the walls of your own house. And you don't need a jacuzzi or an indoor pool to get a little steamy… In fact, all you need is a free-standing washing machine or dryer.
Laundry isn't very fun, but let me let you in on a little secret: it can be an erotic experience. We all know that subtle vibrations can do wonders for a woman's sexual experience. Well your laundry machine has an entire spin cycle's worth, making it kind of like your very own sex furniture. All you have to do to make the most of those deep-cleaning rumbles is hop on!
If you're trying this with a partner, start by having them sit on the side of the laundry machine with his feet hanging over the edge. Once settled in, climb on top (carefully) and straddle them the same way you would in the Cowgirl position, with your knees on either side of their hips.
For an even more intimate feel, you can wrap your legs around their waist while they hold you close. Try matching your slow, sensual grinding movements with the rhythmic rumbles of the machine beneath you. While the laundry machine certainly won't provide you with Magic Wand-level vibrations, the deep rumbles and shakes will feel pleasurable against your bare body. Depending on the strength of your spin cycle, those rumbles might even pulsate through you so she can feel the vibrations as well. Either way, you'll feel the same about laundry again…
SEE YOUR ORGASMS WITH THE LIONESS
We're no stranger to sex toys. Vibrators can lead to some of the best orgasms you'll ever have. And with the Lioness, you can actually track and see your arousal and orgasms.
With cutting edge technology, the Lioness uses built in sensors and an easy-to-use mobile app to tell you exactly what makes your body feel the best. It's the perfect tool to celebrate your leap day in the sexiest way.
Now you can enjoy ALL of the orgasms that your body is capable of, no partner necessary! If that's not a celebration, then I don't know what is.
HAVE SEX WITH SOMEONE NEW (SORT OF)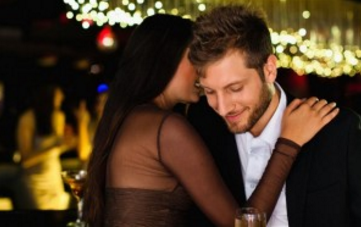 Role-playing allows you to let go of your inhibitions and explore your playful sides together and it's a great way to bring novelty into a long-term sexual partnership. No real strangers are needed for that taste of the unfamiliar. Create that same thrill with your current sex partner by simply taking on a new role. Start out by dressing in your favorite seductive outfits, then graduate to taking on new identities and re-enacting your fantasies.
This is your chance to try things you would never normally do in bed, but your character might love! A simple way to try this is by going out to a bar or a nightclub with your partner. Arrive separately, pretend to have just met each other, chat a bit while pulling out all your best moves, and then coyly suggest that they come back to your place for a nightcap. The post-coital walk home is going to be a short one. As weird as it may seem at first, you'll be surprised at how much you'll love this scenario.
***
Leap year comes but only once every four years, making it more rare than any anniversary, birthday or even *gasp* anal pleasure month. Instead of letting it pass by as "just another Monday", take it as a great opportunity to spice up your sex life!